Second floor / Modern Design Maximum 12 people.
Simple and bright design, where up to 12 people can relax. Of course if you stay for a few nights, there's a private kitchen.
There are 4 queen sized beds (for 8 people), and two double sized sofa beds (4 people), fitting a total of up to 12 people.

The kitchen is outfitted with utensils and dishes so you can enjoy cooking.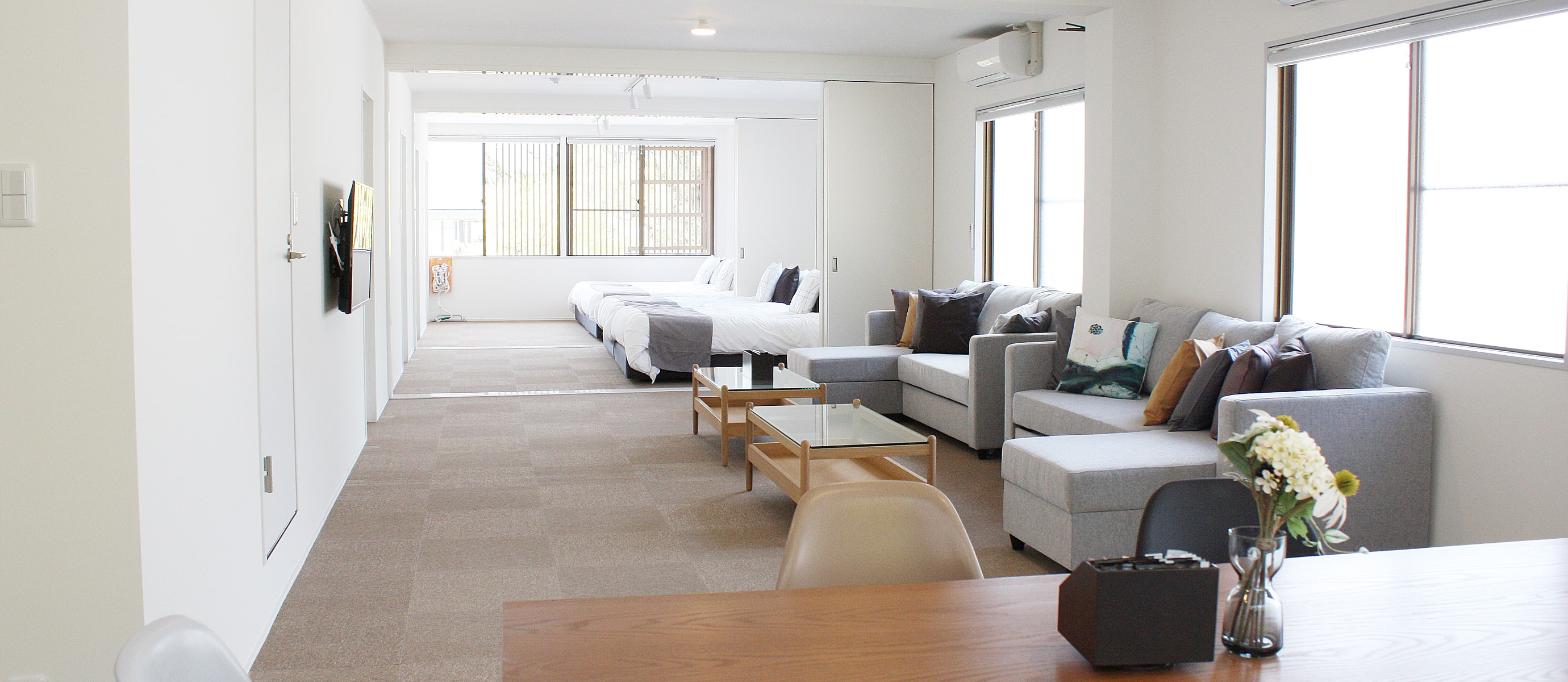 A bright and spacious floor with a living room, dining room, and sleeping quarters, so you can feel refreshed after traveling.
Please book from the home page.
Facilities
Self check in, enter and leave using a smart lock.
You can freely use any of the facilities or condiments in the kitchen. Cleaning staff with take care oftidying up, making the beds, and replacing linens, so you can relax during your stay.

You can freely use the washing machine and there's a space for drying your laundry. * We don't supply any sleep wear, so be sure to bring your own.
Bathing facilities, beauty supplies, and electronic devices.
AmenitiesAmenities 1: face and bath towels, floor mats, sheets, tooth brushes, razors, earplugs. Amenities 2: soap, shampoo and conditioner, sponge. Amenities 3: coffee, tea, sugar, milk.

Electronic Devicesefrigerator, washing machine, hairdryer, iron, ironing board, kettle, toaster, microwave oven, rice cooker.

KitchenLarge frying pan, small pan, knife, cutting board, chop sticks, forks, spoon, dishes, bowls, cups. Seasoning, including salt and salad oil. Kitchen scissors, can opener.
Guest RulesAfter booking we will send details to your personal e-mail account explain how you can enter the room. The room is a completely private space, just like your at home, but please be respectful of the other guests if you're going to have a boisterous party. In the common space please keep your voices down.
Other Particulars No pets allowed. No smoking. Check in is after 4 p.m., and check out is by 10 am. Please be punctual so we can prepare everything for the other guests.
Futons and sheets are supplied, so please arrange them and set them up yourself. Clean linens, comforters, and pillow covers will be supplied.
There is a surveillance camera outside to ensure your security upon check in.
Please book from the home page.